Reiki Master & Healer
December 23, 2019
2022-12-22 11:09
Reiki Master & Healer
It's time to feel alive,
joyful and vibrant.
It's time to release the grip that anxiety, stress and depression has on our lives.
At Soul Purpose, my aim is to meet you where you are at emotionally, uncover the "junk" that bogs you down and help you release what no longer serves you. We all know life is just too short to be living it halfway.
I can't wait to meet you and start this beautiful journey that leads to you living your most vibrant life! If I can do it, you can too.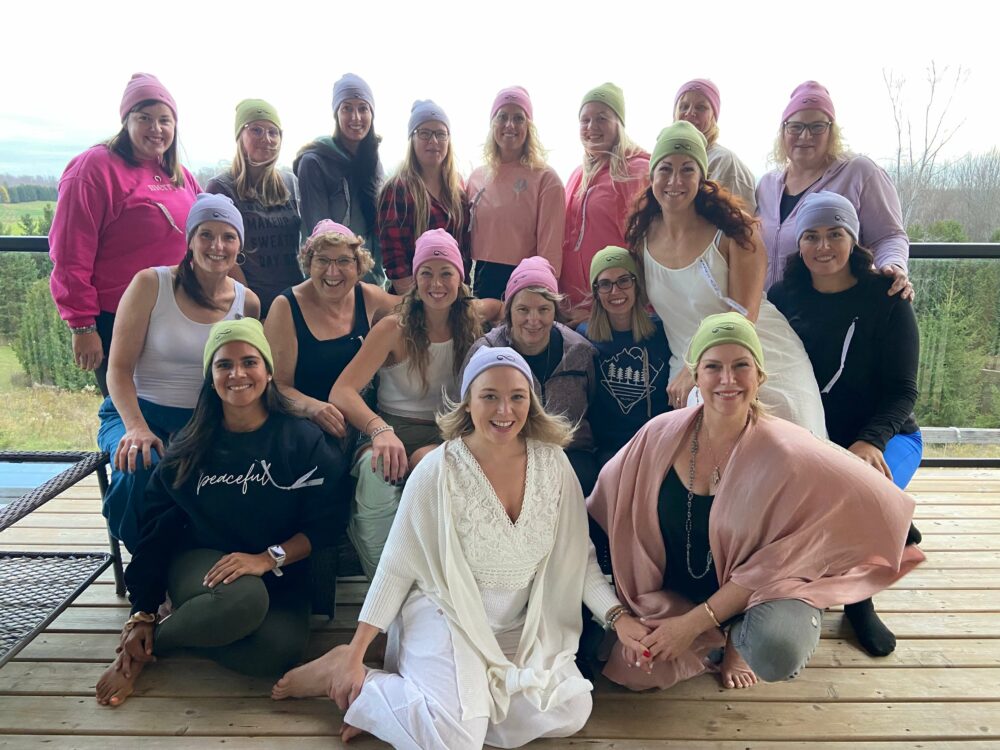 What an incredible, soul filling, recharge both of these retreats brought for all of the individuals who participated.
Read More »
Sessions and Packages
Reiki and Healing sessions with Ashley take place in her cozy, peaceful cabin surrounded by nature and the beautiful scenery of the South Bruce wilderness. Soul Purpose Reiki aims to align your soul and spirit, and release what no longer serves you. Are you looking to go deeper in your healing journey?
View Full Service List
Courses & Retreats
Are you ready to learn Reiki? Are you looking for a break from life to recharge and connect with others? Are you wanting to grow and learn with various energy tools (pendulums, smudge bundles, and more)? At soul purpose we offer Level I, II, III and Master Level courses, Women's Retreats, Manifesting Courses and Mini Workshops so you can maximize, energize and feed your soul and live life with purpose, passion and joy.
In-Person Reiki Healing
At Soul Purpose we work with your energy to release anxiety, stress, worry and pain. We use hands on healing to release stored energetic baggage and channel more life force energy in to the body. We will also clear, balance and charge your chakras, bringing you back into alignment so you can relax, let go and begin living a more blissful, vibrant life!
45 mins - $85 + tax
60 mins - $110 + tax
90 mins - $155 + tax
Group Reiki Sessions
Do you have a group who wants to experience the healing of reiki together?! Group sessions are a great way to include your friends, have some fun and enjoy a healing session together! We come to you, so you and your group can focus on spending time together and unwinding in the comfort of your own space! Group sessions are tailored the needs and wants of your specific group to ensure everyone leaves feeling lighter, calmer and more like themselves!
What our Soul Purpose Reiki clients are saying
"Reiki started a shift in me. This incredible tool helped me release my anxiety, cope with intrusive thoughts and step into my beautiful life - the real kind of beauty - not the picture of beauty I was trying to show the world." - Ashley xo
Ashton Ward
I was experiencing some pretty heavy anxiety but did not realize the severity of it or that it was even an issue until after the birth of my daughter. I suffered long and hard with post partum (unknown to myself at the time) I was at my wits end, it was emotionally, physically, mentally debilitating and effecting my life in every single way. I reached out to a friend of mine in casual conversation one day and she said REIKI, her words, "If Ashely can't help you she will find someone that can". I think I have always suffered from anxiety but throw in a pandemic, covid illness, pregnancy and birth it pushed me over a mental cliff. As soon as I pulled up to the bunkie, the view, the sounds, the nature is absolutely breathtaking, I knew this is where I needed to be. The smell inside the bunkie is instantly calming, my body just relaxes. Ashley is so warm, welcoming, very to down to earth her personality radiates and her laughter is so contagious. After my first session I felt lighter physically, mentally and emotionally, Ashley sifted through all the "crap" that was weighing me down. I unpacked all my negative baggage and left it behind, myself and my husband have noticed a remarkable difference, It is like I am back !! I choose joy and happiness over worry and fear, I am letting go over what no longer serves me . I am truly grateful to have found Reiki and to have found Ashley !
Lauren Mawhinney
Hey Ashley!! Hope your day is going good so far 😊 I finally wrote a testimonial which I can't believe I took so long to do, I am so so sorry! I understand if you don't need it right now but Incase you need it you are welcome to use it anytime! 😊 Also let me know if you want me to be more specific about anxiety and how reiki has helped me with it I wasn't sure what to all include ! 🙂 if it's too long you can cut it ! I actually didn't know what reiki was until about half a year ago. I am so grateful that I was introduced to it because I have received so many positive benefits from my sessions with Ashley. Going to a reiki session is a time in my day where I know I will be able to relax my mind and feel refreshed for the days to come. Ashley listens with an open mind to what is on my mind and uses this to guide my session. She has provided me with tools that I use outside of my sessions to help me with stress. I have definitely been able to train my mind to try my best to rest and push off thoughts that cause me stress during my session which is something that can be very difficult. I am truly glad that I have been able to experience the benefits of reiki with Ashley.
Jamie Spielmacher
Reiki is like a massage for the soul. It releases the emotional baggage you have and sometimes baggage you didn't even realize you were carrying with you. When I leave my appointment it's like having a weight lifted off my shoulders. I can live life with my head held high and from a place of deep rooted peace and strength. I absolutely love my time with Ashley!
Benjamin D Kupferschmidt
I've suffered mentally with depression and anxiety never really knowing I was,or why. For years I tried numerous common approaches to "fix" myself but never really got to the "root" of my suffering. After some light research I knew I had to take the Reiki step. I have now been to three sessions and was not expecting the life changing affects that have occurred already. I've been able to let go of years of trauma, I feel lighter, inner peace and connectivity to life's higher vibrations. "Forever Grateful"
Rhonda MacArthur
I have severe anxiety, PTSD and depression. It had got so bad I didn't want to leave my home, I just stayed in bed and cried or zoned out. I reached out to Ashley and she was so understanding, I could only do Distance Healing sessions from my room but when she was finished I felt so good mentally, so calm and clear after each one! Next was to get me out of my room, if it wasn't for Ashley's gentle, kind and caring nature I wouldn't have been able to do it. She showed me the strength and confidence in myself that I had lost. I am so happy to say that I just recently had a Reiki session with Ashley only this time it was in person!! And it was even more amazing in person. Through this Reiki session with Ashley I was able to let go of things that weren't mine to carry, I was able to believe in myself again and let go of some of the fear that had gripped me everyday. I left there not only feeling proud of myself but so relaxed, calm and clear and full of hope! Ashley has a true gift that so many people can benefit from that struggle with anxiety or depression, I would have never thought I would ever be able to go for a Reiki session in person but I am so thankful that Ashley helped me to get there! I honestly don't know how to thank her enough!
Beth Fischer
Empowered . . . calm . . . hopeful . . . those are the words that come to mind after a reiki session with Ashley. Although I initially went to her for a chronic sinus issue, she intuitively uncovered and then unlocked some interesting emotional blocks for me. I was amazed at what Ashley picked up from my body/energy in that 1st session that really "hit home". The experience is amazing; her energy, her space, and her treatment is exactly what I need each and every time. So many positive things have happened since that 1st session. I have discovered a new sense of purpose AND my sense of smell has returned. So excited to see what else is possible!!
Nicole Steplock-Koenig
Before I came to Ashley, I knew I needed help. But I didn't know in what way, shape or form. I have done counselling, medications, self-care strategies. But nothing that I have done seemed to help me. At least not as much as how reiki has helped me. I can't put my feelings into words, this is something that you have to experience yourself. It may not be for everyone, but I think everyone should try it and see what happens. The road to learning yourself, isn't a straight path. And it is different for everyone. This is one trick I have up my sleeve to help me when I am in crisis mode, as well as just ready to take my life back into my own hands.
Disa MacArthur
I just wanted to say thank you from the bottom of my heart for today! Today has been the happiest I have felt in a long time, driving today i had a smile on my face and jammed out to every song that came on! Thank you for helping me to allow myself to release the trauma and look at my whole experience in a completely new light. I feel free, and knowing that I have my little angel baby behind my heart but being to let go of the trauma and "what ifs" is comforting for me. I honestly can't thank you enough!! ❤️❤️
Lauren Voisin
Before I started working with Ashley, I was in survival mode and suffering from debilitating anxiety. I have had anxiety most of my life but after I had my first son and suffered a miscarriage with my second, it was almost unbearable. I wasn't the mom I wanted to be or the person I wanted to be. I could hardly get through the days. One day last summer I came across a post on Facebook about Soul Purpose Reiki and it hit me in the heart. I had to learn more. I was familiar with reiki but never had a treatment done on myself before. It is very difficult for me to put into words as reiki literally saved my life. I am a completely different person and experience joy on a daily basis now. I am free. I can breathe where I couldn't before. Ashley is phenomenal at what she does and is truly the sweetest soul. I'm blessed to not only call her my reiki practitioner but a very dear friend. I have to touch on her property and where the treatments are held as it is breathtaking. A little wooden bunkie on the top of a hill, covered by trees, a wood stove that crackles and warms you up the entire time. When I think of it, the word that comes up for me is calm. It's so calming. Ashley has helped me grow in my spiritual journey as well and I am absolutely loving that. I truly believe she can help anyone so please connect with her if you are needing some guidance. ❤️
Kileys whytock
After months of putting it off I finally booked an appointment with Ashley. At the time my anxiety was being tested and my autoimmune diseases were becoming more concerning. As soon as I walked in her tiny cabin I felt so much peace. Her space is absolutely perfect all year around. AShley has this way of unleasing so many things during such a short time. Things I have experienced in that cabin had me in awe of her. We have broken through so much and I have never felt more like myself. She's helped me feel a sense of absolute peace and like i'm floating when i leave every time. I will forever be grateful for Ashley during this year. 🤍
Alex Holm
I came to Ashley for a treatment that I desperately needed...more than I knew. I had so much going on in my body that was affecting my life as whole- which I didn't notice until my treatment was started . I felt lighter, my head was more clear, and I didn't have the weight of anxiety sitting in my chest. It was like my body was floating during the treatment. Ashley made me recognize i need more me time and that one really does need to look after yourself. Even weeks after the treatment I felt lighter and a different outlook on how things can be perceived. My favorite part was how relaxing it was and how much relief I was given- mentally, physically and emotionally...not only at the time of the treatment but in weeks to follow as well.
Heidi Sander
Soul Purpose is a haven on many levels. The cozy wood cabin overlooking a pond and forest is magical setting for Reiki. That coupled with Ashley's intuitive nature, care and passion for what she does, adds a deeper element of peace than I've ever experience in a Reiki treatment. I highly recommend working with Ashley. She is very gifted and during her Reiki sessions, she holds space with grace and compassion.
Rick Van Beusekom
The first time I went to see Ashley I had never been to a Reiki healer and I was not sure what was going to happen. When I got there, it was so peaceful and she is so welcoming the stress starts to drop off right away. Ashley has an amazing gift and connection with the energy's around her and she is quickly able to find out what is happening to you then she goes to work and when she is done I always feel lighter, more relaxed and mentally free. I have had pain in my body for a long time and over time working with her I have found that the stress pain has been gone. One would say she has the hands of an angel and a love for all people she works on. Thank you Ashley for opening my eyes to a new way of healing and world.
Alex Holm
I came to Ashley for a treatment that I desperately needed...more than I knew. I had so much going on in my body that was affecting my life as whole- which I didn't notice until my treatment was started . I felt lighter, my head was more clear, and I didn't have the weight of anxiety sitting in my chest. It was like my body was floating during the treatment. Ashley made me recognize i need more me time and that one really does need to look after yourself. Even weeks after the treatment I felt lighter and a different outlook on how things can be perceived. My favorite part was how relaxing it was and how much relief I was given- mentally, physically and emotionally...not only at the time of the treatment but in weeks to follow as well.
Angela Hauck
This girl could change your world. Thank you Ashley Marie for helping me embrace my feminine, speak my truth and show up in this world unapologetically as myself. For many years I couldn't explain the root cause of my issues bouncing between alcohol addiction to sex addiction to drug addiction to anorexia to binge eating to becoming a workaholic... just anything to numb and run away from real life and handling any kind of sad or "hard" emotions. Through our relationship and her Reiki Services, we've ben able to tackle many of these challenging traumas. I've always struggled to verbalize for me to heal what's been dragging me down for so long. Thank you Ashley for sharing your gift with our world to enjoy. ❤️ I can't wait for more people to feel the impact that you will have in this world. Will you be next?
Kayla
I have a tendency to get caught up in the past and with a growing desire to work in the present, to truly be more mindful of myself in the now I knew it would be worth it to reach out for some support. After a journey of self backpacking south east Asia I felt more connected to the person I was in the moment and wanted to continue with that. Having had a brief encounter with reiki abroad I began reaching out to find out more about being able to do that. I reached out to Ashley and inquired about meeting with her to learn more about reiki and exploring what it could do for me. She instantly made me feel connected to the soul purpose of reiki and I knew I was in the right place. Our session allowed me to be fully present in that moment. To connect to and let go of these energies I didn't even know I was holding onto. The sensation of melting into the table combined with the safe claiming space Ashley creates had me leaving feeling refreshed and renewed. Since then I've been able to be more mindful of the physical toil that my negative thoughts/ subconscious can accumulate. Because of how comfortable and easy it is to relax and be present with Ashley I continue to want to engage in reiki. Lots of love!
Brooke Dietmert
I suffer with anxiety, depression and PTSD. I went to Ash out of desperation; I was at a very low point in my life. After my first treatment, I felt like there was a huge weight lifted off my shoulders. I am learning to understand myself and think more positively about myself. In addition to help me improve my self image(which directly affects my level of anxiety & depression), Ash has helped me overcome what used to be severe acid reflux. I look forward to each & every treatment with Ash because of continual improvements with my mental &physical health that I am experiencing.
Kristinas
I've known Ashley for a long time and it has been incredible watching her grow as a person and as a Reiki practitioner. She is unbelievably wise beyond her years and is truly gifted. Ashley is able to seamlessly connect with people with ease and is able to truly help others through some of the toughest and most challenging times of their lives. I've experienced this first hand on several occasions and I am incredibly grateful for all she has done and continues to do for me. She has opened up my eyes to a whole new world of self care. There is an indescribable sense of calm that takes hold of me each time I step foot on her property which only strengthens upon entering the bunkie. If you've never done anything like this before, it's nothing to be afraid of. Ashley is the most welcoming and loving human being you will find and will be sure to make you comfortable. Wondering if you should give it a try? If at the very least you spend 30-60 minutes, laying down on a massage table in the coziest bunkie around, while calm relaxing music and the smell of incense and oils surrounds with the added bonus of getting away from the distractions of the world around you, why not? My HOPE for you is that you experience even MORE than just that.